Edit SRT File
The SRT is a subtitle file that can be read by video playback programs such as Windows Media Player and VLC and also by standalone players such as the Samsung Bluray BD-F5700. These subtitles can be opened with special programs made to run in conjunction with the movie you are watching. You can open and edit the SRT file with any text editor program such as Notepad or WordPad, although there are also specialized programs available that deal with more technical aspects, such as synchronization, formatting, text color, etc. Below we will cover several possible options to open SRT files.
Using Notepad
Locate the .srt file that you want to open and edit.
Right click and go to "Open with".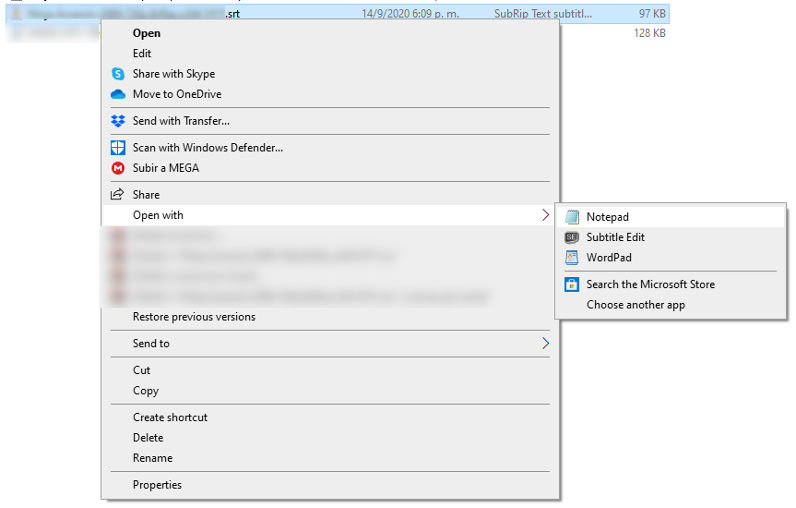 Choose NotePad (you can also choose WordPad, depending on your preference).
If you wish, you can choose the option "Always use the selected program to open this type of file" to ensure that the chosen program opens all files with the .srt file extension.
At this point you can read and edit the subtitles.
Using Subtitle Edit
If you want more advanced editing options for subtitles, you have the option of using the Subtitle Edit software which you can find at the link https://www.nikse.dk/subtitleedit/ which is available both for Windows and Linux operating systems.
With Subtitle Edit you have multiple subtitles customization options. It also has a subtitle translation module that will allow you to correct, customize and adapt your subtitle files.
The steps to open a subtitle file with Subtitle Edit are as follows:
1) Once the program has been downloaded and installed, just double clicking on an .srt file.
2) Once opened, you will be able to observe the different windows and boxes of the graphical interface; one of them shows the .srt file and next to it shows the frame of the movie where it appears. In the subtitles box you can change the synchronization times, the subtitles text and its appearance.
3) In a box below you can see the waveform of the audio corresponding to the highlighted subtitle. From here, you can also extract a subtitle in text form